On March 24, 2018, over 200 supporters of Ari Guiragos Minassian Armenian School came together in Gugasian Hall, to celebrate the school's accomplishments at the 32nd Annual Banquet.
Under the theme of Growing Together, H.E. Archbishop Moushegh Mardirossian, Prelate, attended and conveyed his congratulatory message. Forty Martyrs Church Parish Pastor Rev. Fr. Karekin Bedourian and Board of Trustees members, Board of Regents Chair Mrs. Lisa Gaboudian, School Board members, representatives of community organizations, parents, and sponsors were among the guests in attendance.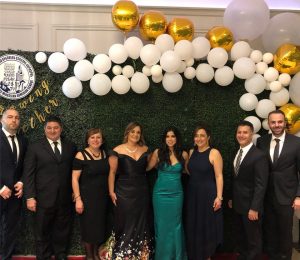 The program opened with remarks by Mr. Kevork Keshishian on behalf of the AGM School Board. Fr. Karekin delivered the invocation. Fourth grade student Arpi Aywazian and second grade student Kristina Tatarian presented songs and recitations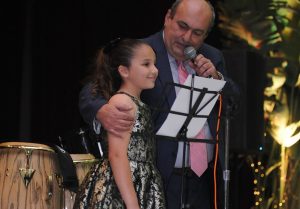 .
In her remarks, Principal Shirinian emphasized how choosing Armenian school means so much more than just dropping off your child at the school gates.  "AGM is not just a school, it's a complete lifestyle", she said. "The heart pumps 2,000 gallons of blood to your body, 24 hours a day. It never rests, it's the hardest working muscle we have. Like the human heart, AGM never rests. It's a muscle that pumps life into our community,  because it has a unrelenting obligation to our people. Our school can never miss a beat, because its working hard to raise hundreds of children that will one day be the torchbearers of this lifestyle we love so much."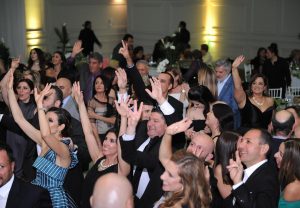 Principal Shirinian went on to convey her gratitude to Forty Martyrs Church Board of Trustees for their unwavering support.
Referencing the evening's motto, "Growing Together," His Eminence commended the community's collective efforts which have led to the School's continuous progress over the past thirty-two years. He stressed the importance of unity in our service to our parishes, schools, and our nation, stating that "in order to grow together we must work together, with harmony, goodwill, and honesty, with one mind, one accord, and one goal, the good of the collective." He blessed the devoted servants who have dedicated their time and efforts to building churches and schools, blessed the memory of the founders who are no longer with us, and commended all those who continue to serve in their example for the flourishing of Ari Guiragos Minassian School, including the Principal, past and present board members, faculty, parents, alumni, benefactors and sponsors.
Growing Together. Ծաղկինք Միասին