Student slideshow from Ari Guiragos Minassian on Vimeo.
In support of our Expected Schoolwide Learner Results (ESLRs), AGM gives great importance to character education. Our approach to character education encompasses activities both inside and outside the classroom.
Religion Class
One of the avenues through which we help students develop good character is through weekly religion classes. This also helps students deepen their spiritual awareness and learn about the Christian faith. Forty Martyrs Armenian Apostolic Church, located adjacent to the school, plays an active role in students' life. Students attend church services during religious holidays to receive Holy Communion. The Pastor meets with students in church on a monthly basis to guide them spiritually and deepen their understanding of concepts taught in religion class.
Word of the Month
Another important avenue through which we reinforce good character values is the word of the month. Each month, a class prepares a presentation, a skit, a song, or any other creative way to teach their peers about the word of the month.  Through these assemblies, we are all reminded about the importance of character traits such as, honesty, integrity, and compassion.
Growth Mindset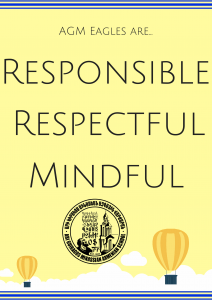 Our AGM team pushes forward our shared vision of Growth Mindset, that serves as the cornerstone of successful learning at our school.
We spare no effort to develop the greatest potential in every single student. We know that in order for our students to become bright and successful adults, they need to cultivate the right attitude toward learning from day one. Whether it's a preschooler working on a puzzle, or a 6th grader solving a math problem, we support our students to persist and grow from every challenge.
The learning environment we foster here is one where mistakes are seen as opportunities to learn and grow. Students feel comfortable taking risks and speaking up in their classrooms, without fear of ridicule or shame for making mistakes.
Student Council 
Each year, students participate in a series of events leading up to the election of their student council. Candidates from the 5th and 6th grades campaign by putting up posters, writing and confidently delivering speeches, and persuading students to vote for them, all while following a strict set of guidelines that prohibits bribery and promises.
Through our elections, students learn about the process of democracy and voting.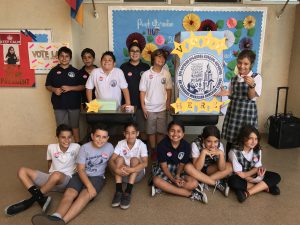 Student Council gives AGM students the opportunity to develop leadership skills. The council is responsible for being the voice of the student body, organizing school-wide activities, participating in regular meetings, fundraising, demonstrating outstanding citizenship, and much more.