STAR Reading Assessment
The Star Test is a computer-adaptive reading assessment that measures the student's reading and math levels. The assessment results are then used by each teacher to plan and modify instruction as needed.  This test assesses 46 reading skill areas in 11 domains. 

First through sixth grade students are administered the test three times, at the beginning, middle, and toward the end of the school year.  This process allows teachers to most accurately measure student growth and adjust individual goals to keep every student on their own path to mastery.
STAR Math Assessment 
Star Math assessments provide interim data so teachers can set goals, respond quickly to student needs, monitor progress, and maximize growth. The test assesses math skill areas in 11 domains. In addition to gauging the progress of students through the school year, the STAR Math assessment can be used to test a student's readiness for state tests.
Accelerated Reader 
Our Accelerated Reader (AR) program provides data-driven, personalized reading practice to help every student become a flourishing reader. AR is the most widely used K12 reading practice program, and its ultimate goal is to encourage students to discover a lifelong love of reading.  Accelerated Reader is designed to be interactive and asks targeted questions about the text students are reading, to help develop their comprehension.
Terra Nova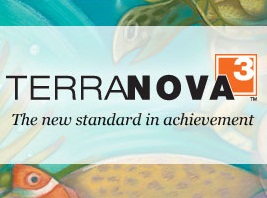 During the 2016-2017 Academic Year, AGM transitioned from Stanford 10 (SAT10) standardized testing to a more updated test, called Terra Nova.
The test is held the second week of May for grades K-5. Students are given a practice test the week before, to familiarize them with the test and best prepare them. Terra Nova is a nationally standardized achievement test, which includes content students may not have been specifically taught, but that they could be expected to have mastered according to their cognitive ability.
The assessment results are then used to identify overall trends and make necessary modifications to our curricular needs. While there are numerous indicators of our students' success, we are proud of their accomplishments on these exams.
100% of the graduating sixth grade class of 2016 performed above average on their Stanford10 testing. 
100% of the 2017 Kindergarten class scored  "high mastery" level in Terra Nova's mathematical measurements.
100% of the 2017 First grade class scored "high mastery" in Terra Nova's oral comprehension of reading. 
REMEMBER…No test, however extensive, can measure a person's total ability or achievement. These tests and programs are used as supportive tools to help measure student growth and determine learner needs.