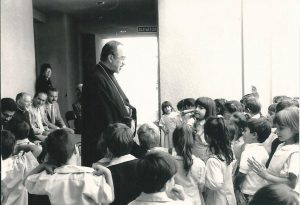 Ari Guiragos Minassian Armenian School, located in Santa Ana, California, was founded in 1986 through the generous donation of the Minassian Family, in a building next to the Forty Martyrs Armenian Apostolic Church.  At the time, there were six faculty members and 39 students: 18 in pre-kindergarten; 12 in kindergarten; 7 in first grade; and 2 in second grade. Gradually third through sixth grades were added, to complete the full elementary division. The school continued to grow at a steady pace, and currently it has 120 students. AGM has proudly served the community as the only Armenian day-school in Orange County.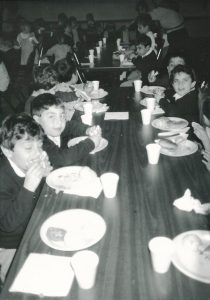 The School shares the religious and national values cherished by the Armenian Apostolic Church of America. Ari Guiragos Minassian Armenian School is part of the Western Prelacy Armenian Schools, which is comprised of 10 schools throughout California governed by the Board of Regents located in Glendale, California. The faculty, staff, School Board, and PTO are all dedicated to supporting the school in providing each student with a quality academic curriculum, in an environment that supports creativity and positive self-esteem.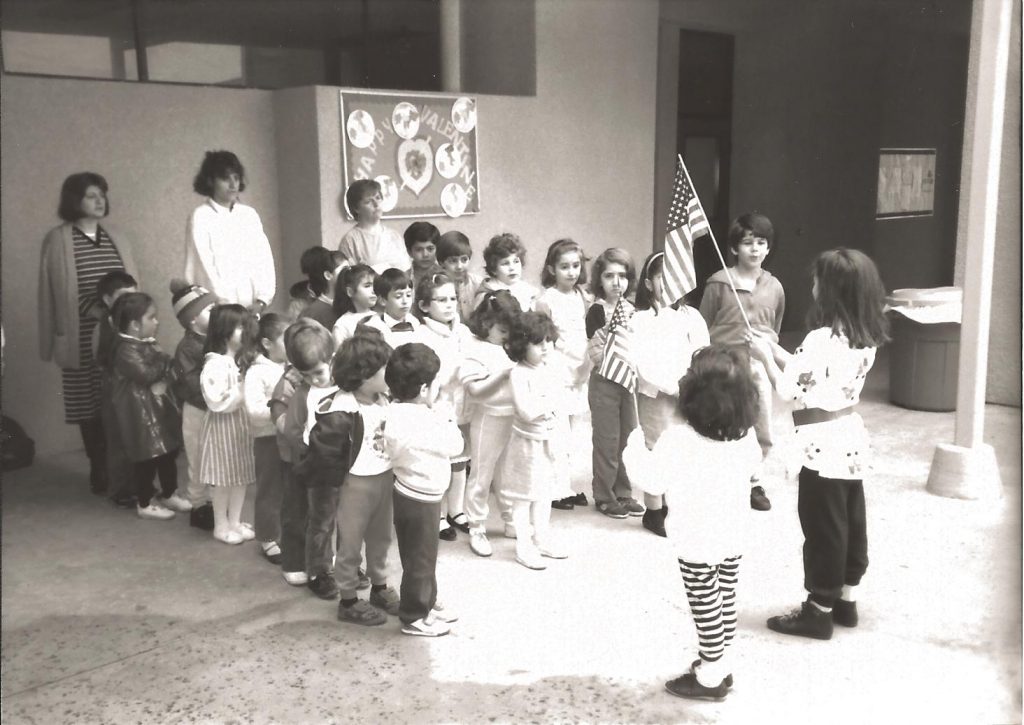 WASC ACCREDITATION 
Ari Guiragos Minassian Armenian School has been accredited by the Western Association of Schools and Colleges (WASC) since 2005.  Following the WASC accreditation visit in the Spring of 2017, Minassian  received a letter from WASC awarding the school with a six-year accreditation status. This is the highest accreditation status that WASC bestows to a school. 
We were so proud to have further validated our school's gold-standard during the most recent WASC self-study, full visit accreditation cycle. After spending 4 days on our campus to make thorough observations, Mrs. Flaherty, the committee chair said,
"the sense of family here is profound, it's something I've never seen..what you do here is what everyone else wishes they could do. Your teachers are highly skilled in differentiation, scaffolding, and multi-sensory teaching. You could bottle what you do here and sell it to Harvard!" 
The Accrediting Commission for Schools, Western Association of Schools and Colleges (ACS WASC), a world-renowned accrediting association provides assistance to schools worldwide, primarily in California.
The Accrediting Commission for Schools, WASC, extends its services to over 4,600 public, independent, church-related, and proprietary pre-K–12 schools, works with 18 associations in joint accreditation processes, and collaborates with other organizations such as the California Department of Education (CDE). CDE has collaborated with ACS WASC in order to align the accreditation process with the planning process for California public schools required by state and federal statues in the Single Plan for Student Achievement (SPSA) and the Local Control Accountability Plan; the ACS WASC/CDE Focus on Learning (FOL) Joint Process Guide is the collaborative process that helps schools identify and implement school improvement needs and supports accountability. Another example is the partnership with the University of California regarding the a-g course requirements.
The ACS WASC Commission is composed of 32 representatives from the educational organizations that it serves; this includes representatives from the Association of California School Administrators, California Department of Education, California School Boards Association, California Charter Schools, California Teachers Association, California Federation of Teachers, East Asia Regional Council of Schools, Hawaii State Department of Education, National Lutheran School Accreditation, Pacific Union Conference of Seventh-day Adventists, and the Western Catholic Educational Association.
ACS WASC Philosophy
The philosophy of the Accrediting Commission for Schools centers upon three beliefs: (1) a school's goal is successful student learning; (2) each school has a clear purpose and schoolwide student goals; and (3) a school engages in external and internal evaluations as part of continued school improvement to support student learning.
Accreditation is integral to a school's perpetual cycle of assessment, planning, implementation, monitoring, and reassessment based upon student achievement. It fosters excellence in elementary, secondary, adult, and postsecondary education by encouraging school improvement through a process of continuing evaluation and to recognize, by accreditation, schools that meet an acceptable level of quality in accordance with established criteria. In addition to its official title, WASC also means We Are Student-Centered.
Why Accreditation?
Assures a school community that the school's purposes are appropriate and being accomplished through a viable education program  — a trustworthy institution for student learning

Validates the integrity of the school's program and transcripts

Facilitates transfer of credits to other English-speaking schools — critical for college/university acceptance worldwide

Fosters the ongoing improvement of the school's programs and operations to support student learning

Provides valuable insight from fellow educators visiting the school

Benefits schools that choose joint accreditation or other collaborative processes, e.g., ACS WASC/CDE.
ACS WASC Accreditation Process
Initial Visit Process
The purpose of the one- or two-day visit by a two-member team is to understand the school's purpose, its program, and operations based upon the ACS WASC criteria and detailed school description.

If the Commission grants initial accreditation or candidacy, the school addresses recommendations from the visiting committee report and completes first full self-study by the end of the third year.
Self-Study Process/Full Visit
Involvement of all stakeholders in the self-study process.

Clarification of the school's purpose and the schoolwide learner outcomes.

Assessment of the student program and its impact on student learning with respect to the ACS WASC criteria.

Development of a schoolwide action plan that addresses identified areas for improvement.

Visiting committee validation and enhancement based on accreditation criteria and standards, self-study, and findings from the visit.
Follow-Up Process
Annual assessment of the action plan progress and refinement of the plan as needed.

Completion of progress reports and/or reviews, e.g., annual reports.

Celebration of success.